Whether writing a research report, developing a blended or online learning program, or talking with a group of people about blended or online learning options, the first step is always a consultation phone call.  This phone call is about building a relationship to determine how best to serve the organization. 
Whether a blended or online program is being developed for part time or full time students, blended or fully online, credit recovery or Advanced Placement, or for 50 or 500 students, the following components must be addressed to ensure long term success:
Type of blended or online program
o   Educational agency, district or charter or cooperative or company or charter/educational      management company (EMO)?
Operational Control
o    Who will finance, implement and maintain?
Location
o    Office? Classroom? Shopping mall?
Course Management System
o    Blackboard, Moodle, Angel or ???
Course Content
o    Where will this come from?  Develop, purchase or find? OERs?
Course Type
o    Synchronous or asynchronous or blended?
Equipment Needed
o    Computers? Classroom? Headphones?
Approvals/Policies
o    Governing Board approvals needed?
Administration
o    Who will be the "champion" for the program?
Students – Who will they be?
Teachers – Who will be the teachers?
Teacher Training – Who and how will teachers be trained?
Funding – How funded?  Up front costs?
Ongoing Costs – What will be your one time and reoccurring costs?  (Note: An online program generally does not make money in the first two years of existence)
Implementation and Advisory Committee Members
In addition, the following elements must be addressed for implementation and sustainability:
Leadership
Professional Learning
Systems / Policies
Teachers / Instructional Practice
Content
Technology / Network / Infrastructure
The graphic below shows the components of an online program.  The graphic below is adapted by Rob Darrow. From Keeping Pace with K-12 Online Learning, by J. Watson, B. Gemin, J. Ryan and M. Wicks, 2009, Denver, CO: Evergreen Education Group. http://www.kpk12.com/.   And adapted from Gregg Vanourek, A Primer on Virtual Charter Schools: Mapping the Electronic Frontier for the National Association of Charter School Authorizers, 2006.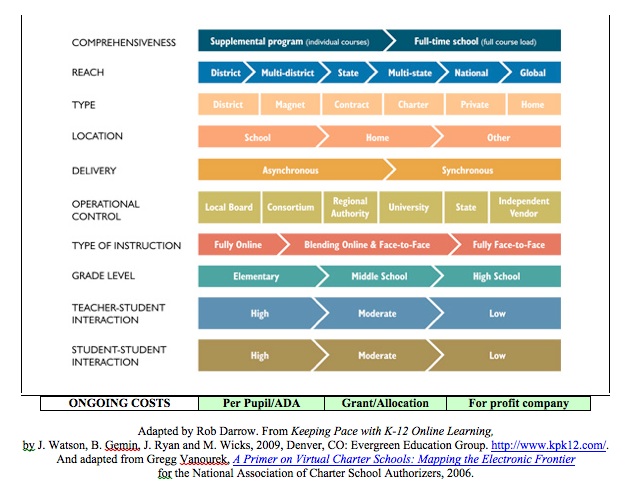 Review the latest Keeping Pace document here: http://kpk12.com/